Here Is My Complete Link Building Strategy
I aim to provide the best link building service that I can based on 6 years of industry experience in Search Engine Optimisation. 
I have a series of systems and processes that have been developed and peer reviewed over time. Put simply, our approach works, and it has helped us acquire some outstanding links at an affordable rate for our clients. 
In order to provide transparency in an industry that is often very much lacking, I've listed below our exact process and how we do things so it all makes sense. You'll know exactly what you're getting, and it will help cover any questions or objections you have towards joining us as a client.
This is not a large agency, I run a small business and therefore only take on a small number of clients at one time. So have a read through our process, and get in contact to see if it is a good fit before all the spots are taken.
Core Link Building Services:
I provide two main link building services. Both are to a very high standard, and both have different use-cases. Many clients use a combination of them.
Monthly Guest posting:
I pitch sites with guest posts (As outlined in my guest post processes video) and will work until we have 10 links delivered & live.
Our standard filter for qualifying these sites:
Minimum of 1,000+ organic visitors
Ahref's DR between 20-39
We can go larger at other price points, just ask.
HARO Link Building:
This service (as outlined in the video here) is where we get reporters/journalists/publishers of well known brands/websites in need of information about topics, we ghostwrite responses on your behalf.
In exchange for any answers used your website is also credited and you get backlinks from high power sites. We've managed to get clients on sites like Forbes, JotForm, CloudWays, Vice, Business Insider, and many more well-known brands using this method.
This service we can't guarantee the volume of links per month, so instead we only charge per delivered & live links - No risk to you as you're only paying for links that go live.
Gather Data. Make A Plan.
What I Use For Our Link Building:
Email:
I'll be ghostwriting for you using your name, or a high authority team member's name. 
Generally acting on behalf of you, a CEO, entrepreneur, or someone in a high position so that it makes the campaign much more credible when reaching out to websites. 
It greatly improves success rates as they don't see it as some company hired to build links.
I either require a domain email with your name or a 'persona' email from a domain that is very similar (I'll source and set that up if we can't use your domain, we want things to be as easy as possible for you). 
Google Analytics Access & Google Search Console Access
Access to both of these is required so that I can get a much better perspective of your website and what I'm working with. 
It allows me to find out what users are doing on the site, and view insights into keyword opportunities, quick wins based on existing rankings, or pages that are almost ranking. 
Typically we look for your most popular pages and content, any good keyword opportunities that are currently ranked within the top 30-40 positions in Google, and keywords that generate a good amount of impressions but no clicks yet. 
Anchor Text and Current Link Profile Analysis
Ahrefs/SEMRush etc:
Using tools like Ahrefs, SEMRush, SiteProfiler, Majestic etc, I'll analyse your current link and anchor profile.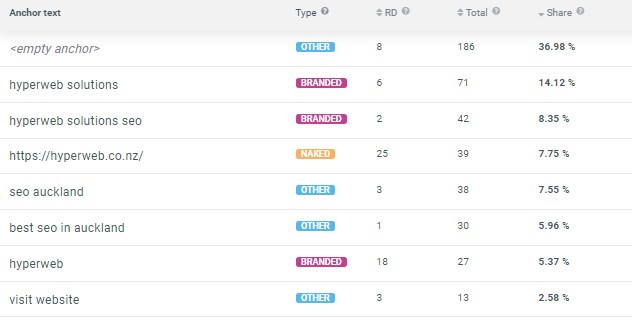 I'll check to see if anything looks out of the ordinary, such as if there are any spammy links, if your anchor text is over or under optimised. 
As well as checking all the third-party metrics such as DA (Domain Authority), PA (Page Authority), CF (Citation Flow), TF (Trust Flow), DR (Domain Rating), and check the history of the site to see what has been gained/lost over time. 
This will help to provide a good perspective and help to guide our initial strategy based on what needs to be addressed first.
Content
I then take a look at the current content on your site and find out what we have to work with.
Some things I'll look for are: 
What is the average number of social shares for each piece of content?

Do you frequently publish content?

Do you have a content writer?

Are you willing to invest in content creation?
The next step is to make a list of all content pieces on the site. We'll also consider traffic and rankings for these as well. 
If you don't have any suitable content - which is quite common then we can plan some content ideas that would be suitable for the list of targets. 
If you have an in-house writer then we can use them, otherwise I'm more than happy to use one of our team at an additional rate. It is recommended that we use our team since we know what types of content they produce and that it will be suitable for our needs. 
While this is not a requirement, having at least some supporting content will greatly benefit your website. Google wants to see that you are an expert in your industry, and having some strategic supporting content is a great way to help show this to Google - and your users too. 
This does not mean you need to be 'blogging' all the time either. I'll work with you to discuss details around your specific situation because I know many business owners simply don't have the time to be constantly pumping out content, and you don't necessarily need to be doing that.
I list all of the data obtained from the previous steps which is kept in a reporting document that is updated in real time. We'll provide access to this for you.
We'll also list sites that have published the links on them within the sheet.


Link Opportunity Research
Build Large List Of Link Targets With Search Operators
The next step is to begin searching for link opportunities using the keywords generated earlier combined with a range of Google search operators to filter through search results.
This tactic allows us to build up a very large list of link targets and opportunities from a range of websites based on our requirements. 
As an example, you can use something like this search operator if you are looking for sites related to the Real Estate niche:
real estate inurl:resources
This would retrieve all websites about real estate that include the word "resources" in the URL. This is likely to be a list of resources regarding real estate.In this case, they would be ideal if you had a good relevant resource created to use for these targets.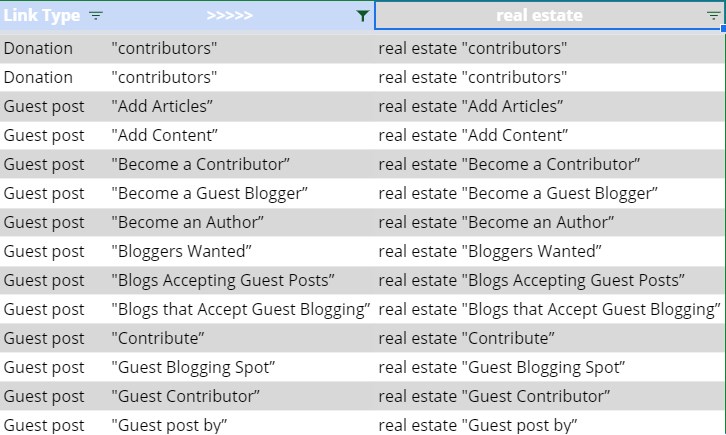 Link Opportunity Selection Process
I also check the domains using Ahrefs or SEMRush to analyse their statistics around link profiles, current rankings, and traffic. Based on this data I can then work through the websites and prioritise the best opportunities for outreach. 
Based on the specific campaign we are running, I'll then have a list of relevant websites that will be suitable for outreach and ideal as links to your site.
In most cases the main links that will be generated are guest post links, as they don't often require additional content on your site, depending on the arrangement, budgets, and content requirements.
Project Management
Now that everything is in place, I'll put it together in a project management document that will run the campaign and outline the roadmap for the coming months. 
This will also be provided so that you can see the progress and what we are working on and know what is happening.

Collect Data For Link Opportunities
At this point, I know what keywords you're needing to rank, what pages to build links for, anchors to use, and all the data around ideal link opportunities. 
This information will be the grounds for most of our link building efforts and will be used to then find contact information of the prospects I'm reaching out to. Prospecting is ongoing and will always be changing as we continuously work through them and update/revise. 
I aim to get the best contact person to reach out to and acquire the most accurate information about them to have the best chance of reaching the right person - increasing the success rate of our campaign.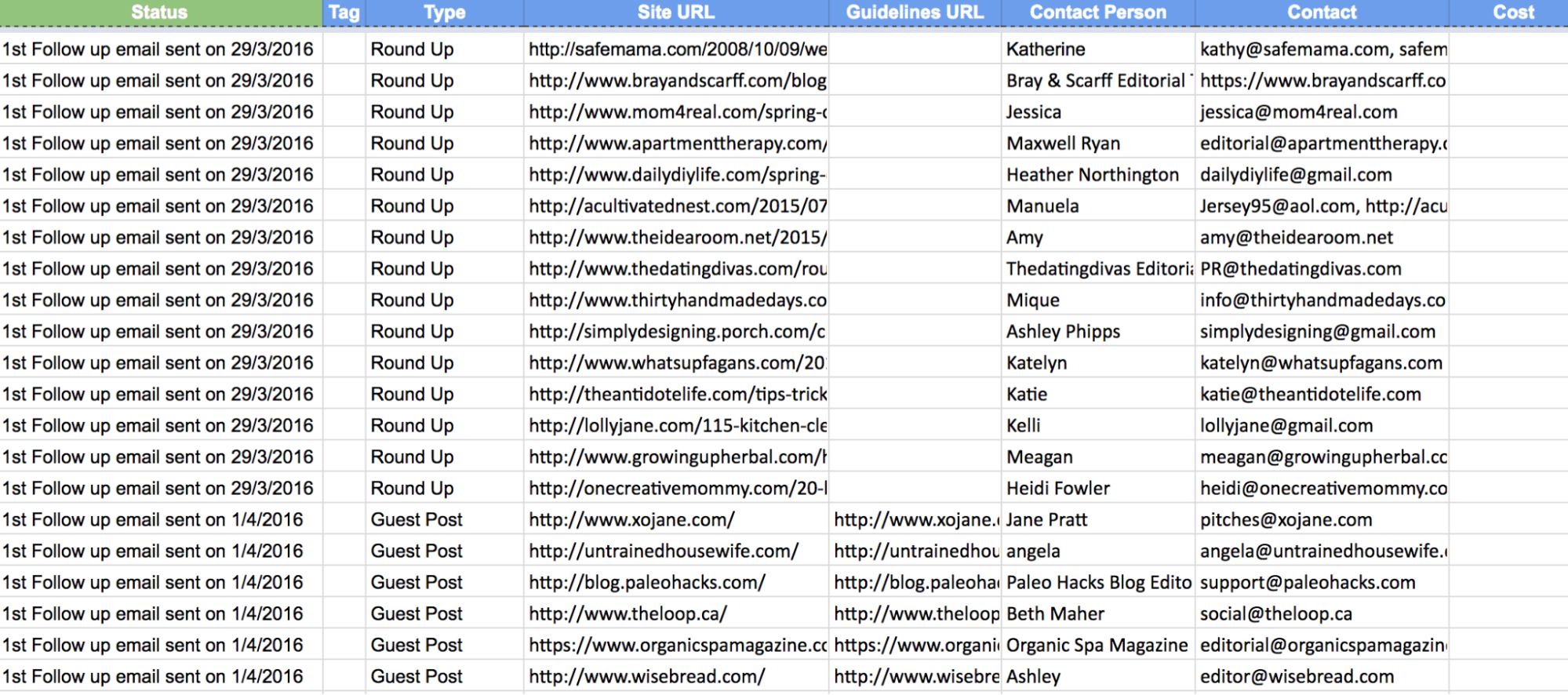 Begin Reaching Out To Prospects With Personalised Emails
This is not a 'spray and pray' mass email spam campaign. A custom made personalised email is created for each of the prospects so they are very personalised towards the person I am contacting. Using their name and an email tailored towards the type of link campaign we're running. 
The other benefit of this is building better relationships with the prospects/targets and providing them with something that is mutually beneficial and increases the likelihood of being approved/accepted and a link being placed.
Follow Up With Prospects. 
Understandably, this is a very important part of the process. Companies get a large amount of emails sent to them, so it is common for things to get missed or go unnoticed and they can be easy to ignore. 
I send a series of follow up emails to the prospects that don't respond, and also track email open rates to see who has and who hasn't opened/seen our emails. Each is sent a different set of follow up emails based on their actions (or inaction).
Results
Based on this system I have built, the results are based around increased organic traffic as the main performance indicator.
Because these links will be on relevant, authoritative websites that are also generating traffic to them. Google trusts them and it will feed the search engine with data it likes to see, rewarding your website in the process with higher organic rankings, and pulling in rankings for more related keyword variants. This leads to an increase in organic traffic to your website.
Traffic that converts. 
These users are looking for specific things that you offer, so when they visit your website there is a much higher likelihood they'll convert - providing the website is also doing its job pointing users towards your offers and conversion goals. This is the best type of traffic that you want visiting your website.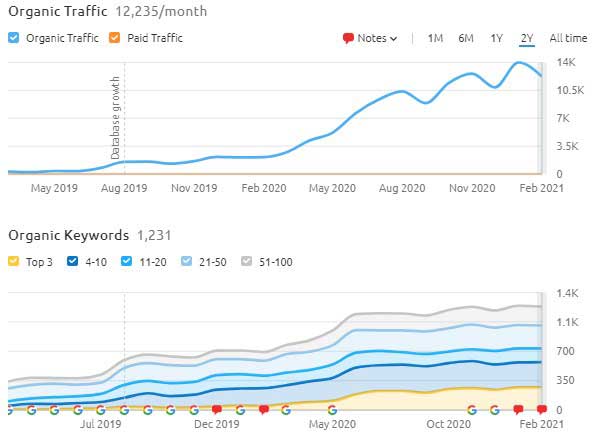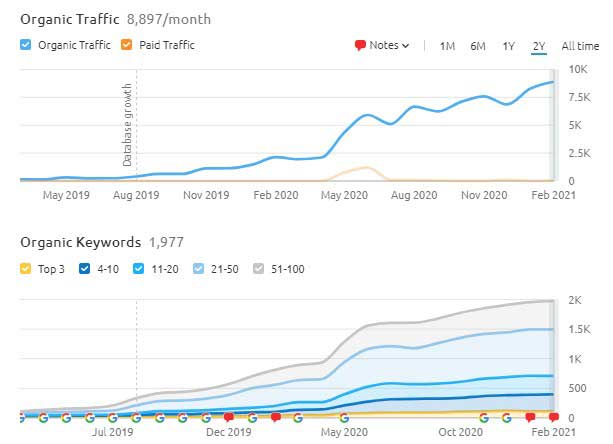 Link Expectations
Typically I expect to have 10 links placed per month. I use Ahrefs DR (domain rating) as a third-party metric to provide clients for the links that are built, combined with traffic metrics.
Generally the types of links from our guest posts range between a DR 20-40 with organic traffic starting at around 1,000 visits to the site per month. Occasionally we can also get placements with links up to around a DR 40-80 depending on the industry. 
All will be reported in the project management sheet and provided to you to view anytime and see when links have been published, as well as see how we're progressing. 
Get backlinks with link profiles as good as this: